Proline Prosonic Flow 93W
Ultrasonic flowmeter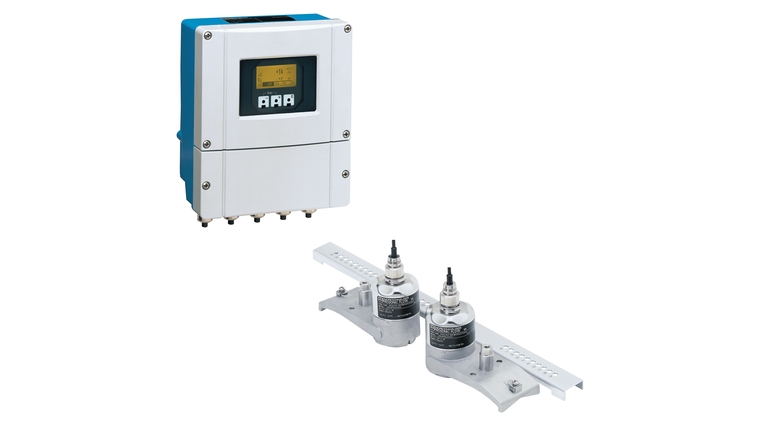 Device with automatic frequency scan for max. measuring performance with a wide range of outputs
The Prosonic Flow W clamp-on sensor was specially designed for water and wastewater applications. Combined with the Prosonic Flow 93 transmitter with touch control, four-line display and extended functionality, Prosonic Flow 93W offers high accuracy in standard applications in the water industry.
Rychlý výběr
Vyberte si z námi navrhovaných možností
Individuální konfigurace
Pokračujte ve svém výběru ze všech možných volitelných možností
Výhody

Low capital investment – cost-effectiveness increases with pipe diameter (up to DN 4000)

Long-term stable signal - maintenance-free permanent mounting from outside with coupling pads

Process transparency – diagnostic capability

Highest performance –...
Oblast použití

The measuring principle is independent of pressure, density, temp., conductivity, viscosity

Clamp-on flow measurement of process water, salt water, demineralized water, drinking & wastewater

Device properties:

Medium temperature: –20 to +80 °C (-4 to +...
Příslušenství / náhradní díly
Kit power s.b. PSONIC9X 85-260VAC

Kit P.s.b. PSONIC9X 20-55VAC16-62VDC

Kit 10 fuses 250 VAC T800 MA

Kit 10 fuses 250 VAC T 2A00

Kit amplifier 93 1CH WEA EX

Language: FR,ES,IT,NL,PT,DE,EN

Kit amplifier 93 1CH EES EX

Language: SV,FI,NO,RU,PL,CS,EN

Kit amplifier 93 1CH SEA EX

Language: JA,ID,EN

Kit amplifier 93 1CH CN EX

Language: ZH,EN

Kit amplifier 93 2CH WEA EX

Language: FR,ES,IT,NL,PT,DE,EN

Kit amplifier 93 2CH EES EX

Language: FR,ES,IT,NL,PT,DE,EN

Kit amplifier 93 2CH SEA EX

Language: JA,ID,EN

Kit amplifier 93 2CH CN EX

Language: ZH,EN

Kit com 53/55/83/93 curr./freq. out Ex

Kit commodul current/freq./2Relay Ex

53/55/83/93/65

Kit I/O Profibus PA Ex

50/53/55/80/83/93/65

Kit I/O 93 Profibus DP C13 Ex

Kit I/O Profib. DP+Stat.In 2 Interf. Ex

53/55/83/93

Kit I/O Foundation Fieldbus C02 Ex

53/55/83/93

Kit I/O Foundation Fieldbus C14 EX

53/55/83/93/65

Kit Commodul current out 3 Interface Ex

53/55/8X/93/65

Kit Sub PCB Status input

53/55/8X/93/65

Kit display modul Wall enclosure

53/55/83/84/93/8CN/8DF

Nr

10

Order code

50094017

Kit Bus PCB/PCB carr.5X/8X/9X/65 wall

Kit connec.plate 90/93 1CH wall enclo.

Kit connec.plate 93 2CH wall enclo.

Nr

30

Order code

50108140

Kit Termin.Block Wall encl. 5X/8X/9X/65

Nr

12

Order code

50096840

Kit 10 cable glands M20x1,5

Nr

12

Order code

50098042

Kit 10 ext. M20x1.5/NPT 1/2" (plug PVC)

Nr

12

Order code

50098041

Kit 10 ext. M20x1.5/G 1/2" (plug PVC)

Nr

12

Order code

50098037

Kit Cable gland Profibus PA

Nr

12

Order code

50094984

Kit Cable gland Found. Fieldbus

Kit Ground terminal / Cover clamp

Kit 2 Screening sheet wall enclo.

Prosonic Flow 93, retro fit kit In/Out

Sensor pair-40...80oC Prosonic F DDU18

Sound velocity measuring sensors for Prosonic Flow 93; sensor pair for measurement of sound velocity in the fluid.

Sensor pair0...170oC Prosonic F DDU 18

Sound velocity measuring sensors for Prosonic Flow 93; sensor pair for measurement of sound velocity in the fluid.

Sensor 0...60oC Prosonic Flow DDU 19

Wall thickness measuring sensor for Prosonic Flow 93P and 93W; sensor for measuring pipe wall thickness.

Overview auxiliary equipment see spare part picture

Prosonic Flow 93, transmitter

Prosonic Flow W, flow sensor set

For use with Prosonic Flow 90/91/93

Prosonic Flow 91/93/93T,sensor cable set

Prosonic Flow W/P, sensor holder set

Prosonic Flow W/P, install.set Clamp On

Only use with Prosonic Flow 91 and 93 transmitter.

Prosonic Flow W, install. set insertion

Only use with Prosonic Flow 90 and 93 transmitter.

Prosonic Flow 91/93 W/P, conduit adapter

Transmitter 91/90/93, Mounting set

Prosonic Flow 93, software package

Software kit

Prosonic Flow, coupling medium

Usage: Prosonic Flow 91W/93W/93P