Proline Promass A for lowest flow rates
Lightweight single-tube Coriolis flowmeter with highest accuracy
Datum zveřejnění: 02.08.2018
Proline Promass A – the lightweight champion for lowest flow rates

©Endress+Hauser

Proline Promass A 300 – Four-wire version, process application, flange connection, DN 4 (1/8")

©Endress+Hauser

Proline Promass A 200 – Two-wire version, process application, flange connection, DN 2 (1/12")

©Endress+Hauser

Proline Promass A 500 – Four-wire version (remote), hygienic application, Tri-Clamp connection, DN 1 (1/24")

©Endress+Hauser

Proline Promass A from DN 1 to 4 (1/24 to 1/8")
Maximum precision thanks to the innovative sensor concept
The Promass A sensor system is mounted on a base plate that acts as a "shock absorber," effectively shielding the Coriolis measuring system from external pipe vibrations and pipe forces. Other contributing factors are the much higher oscillation frequency of the measuring tube and its completely balanced oscillation behavior. At a maximum measured error of ±0.1%, measurements down to 8 g/min are possible, or – if the error is permitted to be max. ±1% – even a quantity of less than 1 g/min.
The device design – robust and industry-optimized
Due to the high corrosion resistance (stainless steel, Alloy C22; NACE MR0175/MR0103), Promass A is ideally suitable for process applications, and especially for offshore and onshore areas with aggressive, salty air. Other preferred applications are found in the food and life sciences industries with hygienic or sterile environments. This is ensured by various certificates and approvals (3-A, FDA, EC 1935/2004; FDA, USP Class VI, TSE/BSE) as well as stainless steel in pharmaceutical quality.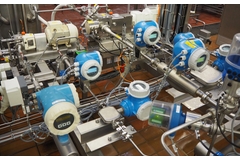 Transmitters for seamless system integration
Various transmitters are available for Promass A: Proline 200 (two-wire device), Proline 300 (four-wire device) or Proline 500 (remote version). They allow simultaneous measurement of mass flow, volume flow, density, concentration and temperature. Access to measurement and diagnostic data is possible at any time thanks to numerous fieldbuses (EtherNet/IP, Modbus RS485, PROFIBUS DP, PROFINET, FOUNDATION Fieldbus, HART, WirelessHart) as well as freely combinable I/Os and WLAN (web server).
Heartbeat Technology – for maximum operational safety
Heartbeat Technology is a a testing function which is integrated into all Proline measuring devices and enables permanent self-diagnostics and a metrologically traceable device verification without process interruption certified by TÜV SÜD. All of this reduces complexity and hazards in a plant and increases its reliability and availability. Since the Promass A measuring system has been developed in accordance with IEC 61508 (SIL), it is also preferred for use in safety-related applications.
Promass A guarantees maximum robustness and precisely measured values with unparalleled repeatability. All of this thanks to the innovative sensor concept, which sets new standards in Coriolis measurement technology. Promass A is light and compact – with no losses in performance or robustness. The measuring device is therefore ideally suited for space-saving installation, for example in modular process facilities and skids.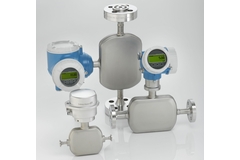 Stahování
Inovační brožura – Proline Promass A

Proline Promass A - lehký šampión s nejvyšší přesností pro nejnižší průtoky

| | |
| --- | --- |
| Velikost souboru: | |
| Název souboru: | |

eBook – Proline Promass A

Podívejte se na tento kompaktní jednotrubkový systém Coriolis pro přesné měření nejmenších průtoků pouhých pár gramů za minutu a nástrojů pro snadný přístup, jako jsou filmy nebo brožury.

| | |
| --- | --- |
| Velikost souboru: | |
| Název souboru: | |
Rozesílací seznam pro tisk
Přijímejte budoucí tiskové zprávy a novinky přímo do své pošty. Udržujte si aktuální přehled díky přihlášení do rozesílacího seznamu pro tiskové zprávy od společnosti Endress+Hauser.