Measure and optimize utility steam distribution
Improve the availability and efficiency of your steam distribution system
One of your daily challenges as an Energy or Utility manager is that steam distribution from the boiler to the points of end use should occur with minimal loss of energy. But the total of steam distributed, and energy, never matches the amount of steam coming from the boilers because of condensation losses leading to wet steam. Condensate partially leaves the piping via steam traps while wet steam can result in significant measuring errors and increased risk of water hammer damaging the piping.
Measurements for an efficient steam distribution system
We offer a complete portfolio of measurement and monitoring solutions to help you accurately measure and optimize steam distribution, including custody transfer. We help you, for example, reduce the risk of water hammer, ensure efficient cooling of superheated steam and check that your steam dryers and pressure reducing valves are working perfectly. We increase the availability of your steam supply, help you build a correct energy balance and an efficient and safe steam distribution system.
Endress+Hauser is the only instrumentation supplier that can provide correct measurements of steam in 2-wire technology, compensated inline by the dryness fraction, permitting the correct mass and energy balance of your steam system

Check and improve efficiency by accurate monitoring of the energy distributed compensated by pressure, temperature and the dryness fraction using international standards (IAPWS-IF97/ASME)

Check that you are distributing, or buying, steam of the correct quality (i.e. superheated or perfectly dry), correctly measure its energy and provide to your processes at maximum efficiency (i.e. 100% dry)

Reduce the risk of corrosion: monitor the quality of cooling water in steam cooling and check the consumption of amines

Our solutions, e.g. instruments with the diagnostics, verification and monitoring functions of Heartbeat Technology, help you comply with ISO 50001 (energy management) and ISO 140001 (environmental management) standards
Key measuring points in steam distribution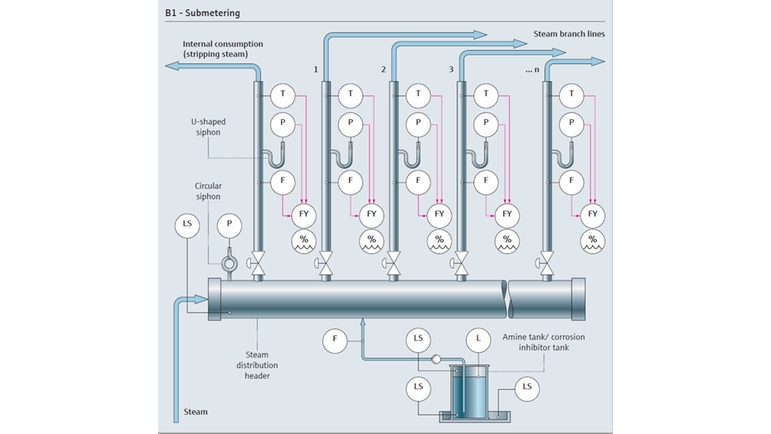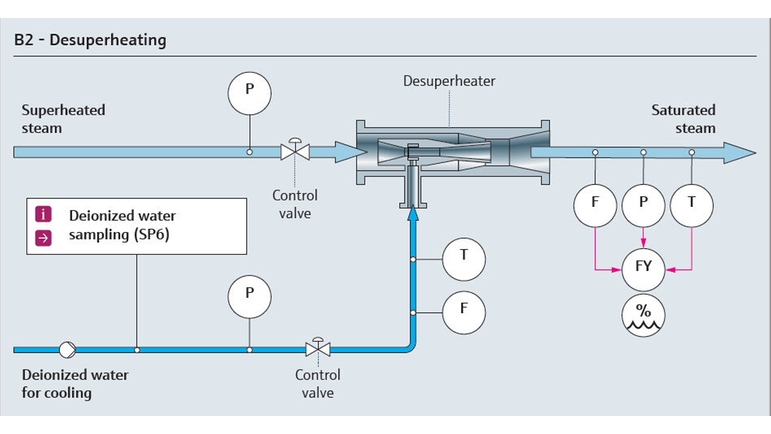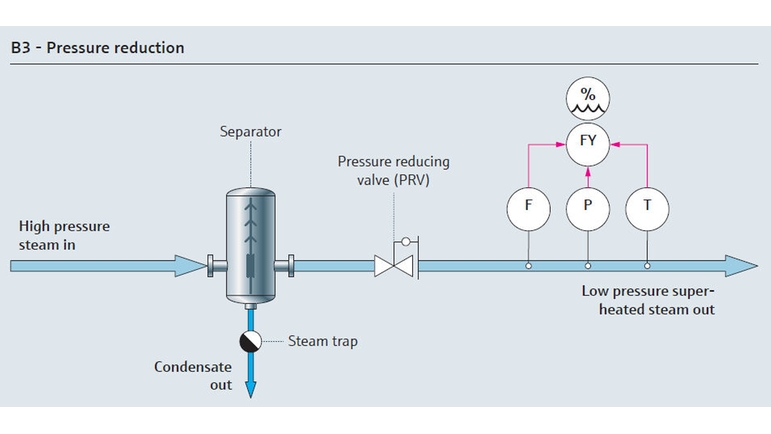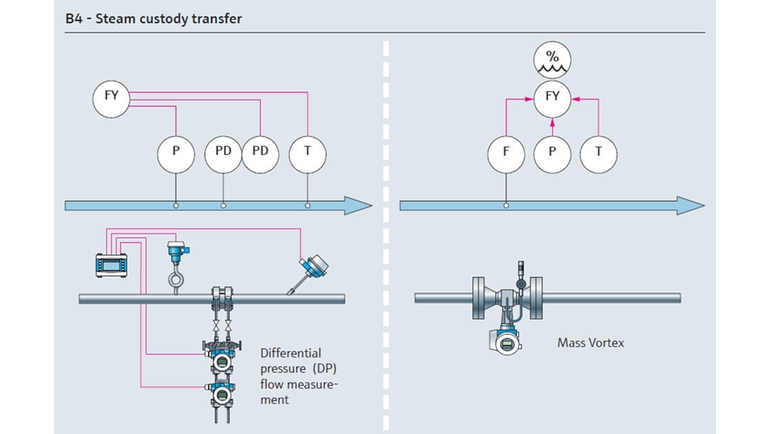 How we support you with your steam distribution challenges
Gain transparency about your steam distribution
Balancing the mass and energy in a steam distribution system can be very challenging. The total of the distribution lines will never match the amount of steam leaving the boiler house because steam loses some of its energy during transport by condensing. 90% dry steam means you have 10% condensate, meaning 10% less energy available to heat your process. Wet steam also leads to measuring errors in volume, mass and energy terms.
Know how dry your steam is: the Prowirl F 200 two-wire multivariable vortex flowmeter detects wet steam and accurately measures the dryness fraction with a calculation of steam mass and energy

Measuring pressure and the dryness fraction helps improve accuracy in volume, mass and energy terms

When using traditional dp or vortex meters for measuring steam flow 90% dry steam will result in an additional measuring error of more than 5% in volume and mass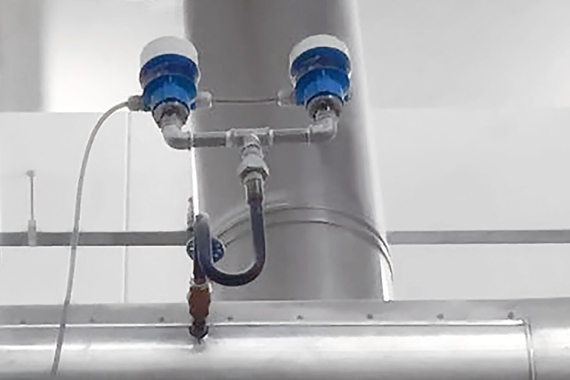 Do you have enough pressure and enough energy?
Steam must be supplied in sufficient quantity and at the correct process conditions: Using pressure, you control the resulting process temperature. If temperature is too high, product may be lost, if temperature is too low, sterilization might not take place. For this, precise pressure measurement is highly important. If you don't have enough pressure, you cannot supply your process with enough energy.
Our robust, accurate Cerebar family of pressure transmitters is perfectly suited to utility steam applications. Cerabar S can measure pressure with up to ± 0.025% o.f.s. accuracy (reference accuracy)

Our vortex line of Prowirl flowmeters is optionally available with integrated pressure measurement and compensation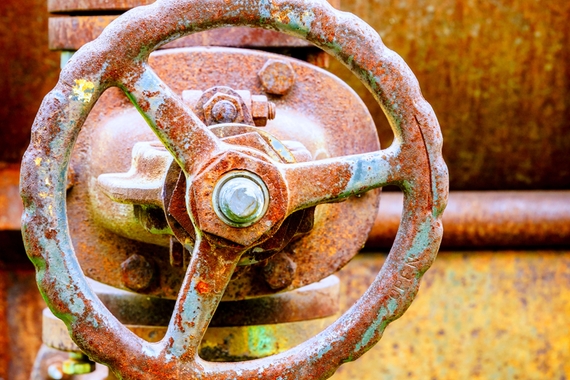 Reduce corrosion and your inhibitor costs
Corrosion is a persistent challenge in all steam distribution systems. To protect your system the addition of amines can help reduce the risk of corrosion. But these chemicals are relatively costly and require precise metering and good inventory management.
Measure amine consumption with ± 0.1% o.r. accuracy using our compact Promass A flowmeter

Monitor the level of the amine tank to re-order in time and make sure you don't run out of chemicals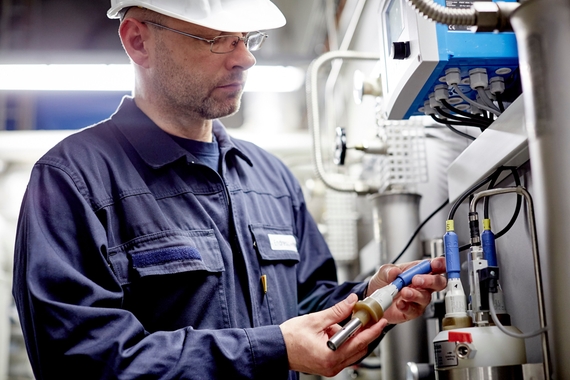 Ensure the availability of your steam supply
Availability of steam is key: if steam is not available, there is no production! Our offering helps you keep the steam up and running at the required process parameters reducing the risk of shut-downs:
Monitor that steam is supplied at the correct temperature with our resistance line of robust Omnigrad thermometers

Monitor that your steam distribution header is not flooded using our switch line Liquiphant

Control the quality of deionized cooling water in your steam cooler (desuperheater) using Liquiline pH, DO and conductivity sensors (total and cation conductivity) and/or silica, sodium, hardness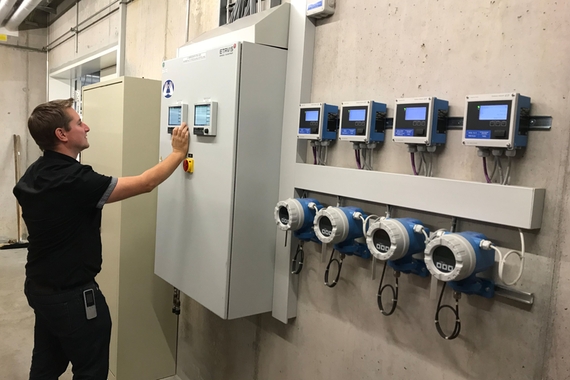 Steam custody transfer: do you know what you are paying for?
What are you paying for? Hot water or good quality steam? When purchasing steam from an external source, it is essential to know the energy content of the steam you are receiving. Our steam metering solutions help you to know if your steam is superheated, wet or dry saturated. Only when receiving dry steam, will you be able to get the most out of your process. We offer two solutions:
Discrete instrumentation for flow (e.g. dp flow split range), pressure and temperature compensated in a separate flow computer offering different tariff counters and a warning if superheated steam gets too close to the saturation line

The all-in-one solution Prowirl F 200 includes pressure, temperature, flow and a flow computer in a single device

In addition to warning when superheated steam gets too close to the saturation line, the Prowirl F 200 detects and measures wet steam and compensates the energy and mass correctly. You know exactly how much energy you are really receiving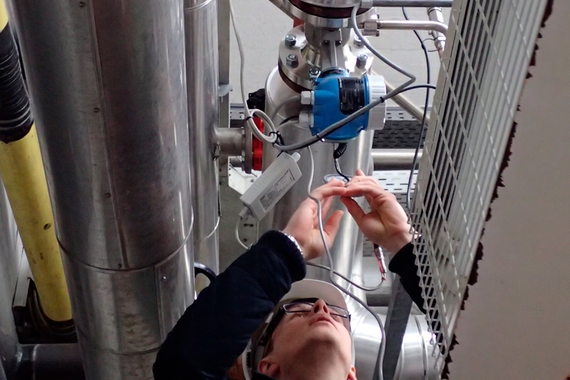 Verify the accuracy of your steam energy measurement
Neglecting the measurement uncertainty about the amount of energy lost and consumed at various points within a steam distribution network can lead to incorrect conclusions and actions. So how can you be sure your steam energy measurements are reliable? Endress+Hauser applied our energy measurement and calibration expertise to develop the Energy Measurement Proving Service to check and confirm the accuracy of these measurements.
This service includes checks of all components of the energy measurement loop, a calculation of the uncertainty of overall energy measurement, and gives clear recommendations on how to improve accuracy

Our experts perform on-site calibration and verification of your field devices with minimal or no interruptions of your process
Výhody
Balancing steam distribution and steam consumption systems requires a great deal of skill and know-how. Our extensive range of accurate and reliable metering, monitoring, and steam management products and services ensures complete transparency and efficient, safe steam distribution in compliance with energy and environmental management standards. Partner with us for integrated steam management solutions that unlock the maximum potential of your entire steam system.
Up to 15%

energy consumption savings from comprehensive energy monitoring solutions

24/7

high measuring accuracy and operational safety over the entire life cycle of your steam system

10s of millions

of savings from sensors and solutions successfully applied in utilities