Proline Promass F 200
Coriolis flowmeter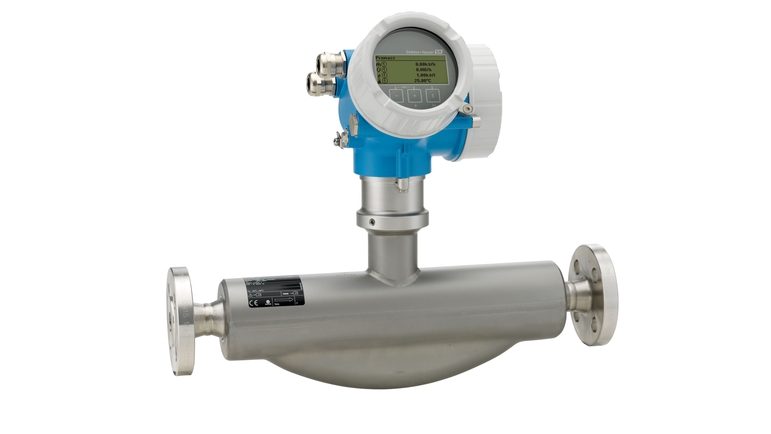 Robust flowmeter with genuine loop-powered technology
Promass F has a long standing reputation as a highly accurate device. It is suited for broadest range of applications. Promass F 200 offers in addition genuine, industry-compliant two-wire technology. This enables seamless system integration into existing infrastructures. Additional advantages are high operational safety in hazardous areas thanks to an intrinsically safe design (Ex ia) and process safety at all times ensured by Heartbeat Technology.
Quick selection
Choose from our suggested options
Individual configuration
Continue your selection from all possible options
Benefits

Highest process safety – immune to fluctuating and harsh environments

Fewer process measuring points – multivariable measurement (flow, density, temperature)

Space-saving installation – no in/outlet run needs

Convenient device wiring – separate connection...
Field of application

Measuring principle operates independently of physical fluid properties such as viscosity or density

Highest measurement performance for liquids and gases in a wide range of applications

Device properties

Mass flow: measured error ±0.1 %

Medium...
Documents / Manuals / Software
Accessories / Spare parts
Nr

34

Order code

71108602

I/O module Flow, 2-wr. 2x4-20mA,HART, Ex

Non-Ex, Ex. Current output, 4-20mA HART + 4-20mA analog. Usage: FTM50/FTM51/FTM52. Usage: Promass 200/TB2, Prosonic Flow 200, Prowirl 200.

Nr

34

Order code

71164940

I/O module, 2-wire, PA/FF, PFS, Ex, V2

Non-Ex, Ex. PROFIBUS PA, FOUNDATION Fieldbus. PFS=switch output. Version 2. Usage: FMP50/FMP51/FMP52/FMP53/ FMP54/FMP55/FMP56/FMP57, FMR50/FMR51/ FMR52/FMR53/FMR54/FMR56/FMR57. Usage: Promass 200, Prowirl 200, Promag 200.

Overvoltage protection (OVP10),1-Channel

4-20mA HART. Usage: FMP50/FMP51/FMP52/FMP53/ FMP54/FMP55/FMP56/FMP57, FMR50/FMR51/FMR52/FMR53/FMR54/FMR56/ FMR57, FMR60/FMR62/FMR67. Usage: Promass 200, Prosonic Flow 200, Promag 200, Prowirl 200.

Overvoltage protection (OVP20),2-Channel

4-20mA HART, PROFIBUS PA, FOUNDATION Fieldbus, Imp./Freq./Switch output. Usage: FMP50/FMP51/FMP52/FMP53/ FMP54/FMP55/FMP56/FMP57, FMR50/FMR51/FMR52/FMR53/FMR54/FMR56/ FMR57, FMR60/FMR62/FMR67. Usage: Promass 200, Prosonic Flow 200, Promag 200, Prowirl 200.

Transmitter electronics FHX50

Consists of: electronics, ribbon cable. Usage: FMP50/FMP51/FMP52/FMP53/ FMP54/FMP55/FMP56/FMP57, FMR50/FMR51/ FMR52/FMR53/FMR54/FMR56/FMR57. Usage: Promass200, Prowirl 200, Promag 200, Prosonic Flow 200.

Remote display FHX50 please order with separate order structure.

M12-female plug connector, VA

To connect FHX50. Usage: FMP50/51/52/53/54/55/56/57, FMR50/51/52/53/54/56/57. Not for dust Ex. Usage: Prowirl 200, Promass 200, Promag 200, Prosonic Flow 200.

Nr

30

Order code

XPD0001-

Electronic Promass 200 / TB2

Main electronic module

Cable FHX50, 5m

Connection cable, shielded. Usage: FHX50.

Cable FHX50, 10m

Connection cable, shielded. Usage: FHX50.

Cable FHX50, 20m

Connection cable, shielded. Usage: FHX50.

Nr

34

Order code

XPD0015-

I/O module, 2-wire, 4-20mA, HART, Ex

Non-Ex, Ex. 1x current output HART.

Cable FHX50, 30m

Connection cable, shielded. Usage: FHX50.

Nr

37

Order code

71110280

Terminal set 2-wire, I/O module

Consists of: 4x terminal 2-pole, green. Usage: FMP50/FMP51/FMP52/FMP53/ FMP54/FMP55/FMP56/FMP57, FMR50/FMR51/ FMR52/FMR53/FMR54/FMR56/FMR57, FMR60/FMR62/FMR67. Usage: Promass 200/TB2, Prosonic Flow 200, Promag 200, Prowirl 200.

Nr

34

Order code

XPD0016-

I/O module, 2-wire, 4-20mA,HART, PFS, Ex

Non-Ex, Ex. 1x current output HART. 1x PFS= pulse/freq./switch output.

Nr

40

Order code

XPD0024-

Display module, SD02, push buttons

For housing: GT18, GT19, GT20. Usage: FMP50/51/52/53/54/55/56/57, FMR50/51/52/53/54/56/57, FMR60/62/67, FHX50. Promass 200/TB2, Prosonic Flow 200, t-mass 150, Promag 200, Prowirl 200. Consists of: Display SD02, helix cable, ribbon cable, connector cover.

Nr

40

Order code

XPD0025-

Display module, SD03, Touch Control

For housing: GT18, GT19, GT20. Usage: FMP50/51/52/53/54/55/56/57, FMR50/51/52/53/54/56/57, FMR60/62/67, FHX50. Promass 200/TB2, Prosonic Flow 200, Promag 200, Prowirl 200. Consists of: Display SD03 illuminated, ribbon cable, connector cover.

Nr

20

Order code

71110281

Cover GT18 316L, HNBR

Material: 316L. O-ring, EPDM, PTFE coated. Usage: FMP51/FMP52/FMP54/FMP55/ FMP56/FMP57, FMR51/FMR52/FMR53/ FMR54/FMR57, FMR62/FMR67. Usage: Promass 200/TB2, Prosonic Flow 200, Prowirl 200.

Nr

20

Order code

71110282

Cover GT18 316L, sight glass, HNBR

Material: 316L. O-ring NBR, PTFE coated. Usage: FMP51/FMP52/FMP54/FMP55/ FMP56/FMP57, FMR51/FMR52/FMR53/ FMR54/FMR57, FMR62/FMR67, FHX50. Usage: Promass 200/TB2, Prosonic Flow 200, Prowirl 200.

Nr

25

Order code

71110291

Cover GT18 316L, terminal Ex, HNBR

Material: 316L. O-ring EPDM, PTFE coated. Usage: terminal compartment, not for Ex d/XP, FMP51/FMP52/FMP54/FMP55/FMP56/FMP57, FMR51/FMR52/FMR53/FMR54/FMR57, FMR62/FMR67. Usage: Promass 200/TB2, Prosonic Flow 200, Prowirl 200.

Nr

25

Order code

71110284

Cover GT18 316L, terminal Ex d, HNBR

Material: 316L. O-ring EPDM /PTFE coated. Usage: terminal compartment Ex d/XP, FMP51/FMP52/FMP54/FMP55/FMP56/FMP57, FMR51/FMR52/FMR53/FMR54/FMR57, FMR62/FMR67. Usage: Promass 200/TB2, Prosonic Flow 200, Prowirl 200.

Nr

25

Order code

71185516

Cover GT18 316L, Terminal, OVP, HNBR

Material: 316L. O-ring EPDM, PTFE coated. Usage: terminal compartment, for overvoltage protection, not for Ex d/XP, FMP50/FMP51/FMP52/FMP53/FMP54/FMP55/ FMP56/FMP57, FMR50/FMR51/FMR52/FMR53/ FMP54/FMP56/FMP57, FMR62/FMR67. Usage: Promass 200, Prosonic Flow 200, Prowirl 200.

Nr

20

Order code

71110299

Cover GT20 Alu, HNBR

Material: aluminium, coated. O-ring EPDM, PTFE coated. Usage: FMP50/FMP51/FMP52/FMP53/ FMP54/FMP55/FMP56/FMP57, FMR50/FMR51/ FMR52/FMR53/FMR54/FMR56/FMR57, FMR60/FMR62/FMR67. Usage: Promass 200/TB2, Prosonic Flow 200, Promag 200, Prowirl 200.

Nr

20

Order code

71110297

Cover GT20 Alu, sight glass, HNBR

Material: aluminium, coated. O-ring EPDM, PTFE coated. Usage: FMP50/FMP51/FMP52/FMP53/ FMP54/FMP55/FMP56/FMP57, FMR50/FMR51/ FMR52/FMR53/FMR54/FMR56/FMR57, FMR60/FMR62/FMR67. Usage: Promass 200/TB2, Prosonic Flow 200, Promag 200, Prowirl 200.

Nr

25

Order code

71110301

Cover GT20 Alu, Terminal Ex, HNBR

Material: aluminium, coated. O-ring EPDM, PTFE coated. Usage: terminal compartment, not for Ex d/XP, FMP50/FMP51/FMP52/FMP53/FMP54/FMP55/ FMP56/FMP57, FMR50/FMR51/FMR52/FMR53/ FMR54/FMR56/FMR57, FMR60/FMR62/FMR67. Usage: Promass 200/TB2, Prosonic Flow 200, Promag 200, Prowirl 200.

Nr

25

Order code

71110302

Cover GT20 Alu, Terminal Ex d, HNBR

Material: aluminium, coated. O-ring EPDM, PTFE coated. Usage: terminal compartment Ex d/XP, FMP50/FMP51/FMP52/FMP53/FMP54/FMP55/ FMP56/FMP57, FMR50/FMR51/FMR52/FMR53/ FMR54/FMR56/FMR57, FMR60/FMR62/FMR67. Usage: Promass 200/TB2, Prosonic Flow 200, Promag 200, Prowirl 200.

Nr

25

Order code

71185517

Cover GT20 Alu, Terminal, OVP, HNBR

Material: aluminium. O-ring EPDM, PTFE coated. Usage: terminal compartment, for overvoltage protection, not for Ex d/XP, FMP50/FMP51/FMP52/FMP53/FMP54/FMP55/ FMP56/FMP57, FMR50/FMR51/FMR52/FMR53/ FMR54/FMR56/FMR57, FMR60/FMR62/FMR67. Usage: Promass 200, Prosonic Flow 200, Promag 200, Prowirl 200.

Nr

15

Order code

50103658

Kit 10 cable glands M20x1,5 grey

Nr

15

Order code

50098036

Kit 10 cable glands M20x1.5 Ex

Nr

15

Order code

71069285

Kit 2 cable glands M20x1.5 INOX Ex

Nr

15

Order code

50098041

Kit 10 ext. M20x1.5/G 1/2" (plug PVC)

Nr

15

Order code

71115505

Kit 10 ext. M20x1,5/G 1/2" (plug brass)

Nr

15

Order code

50098042

Kit 10 ext. M20x1.5/NPT 1/2" (plug PVC)

Nr

15

Order code

71115509

Kit 10 ext. M20x1,5/NPT1/2"(plug brass)

Nr

15

Order code

50098037

Kit Cable gland Profibus PA

Nr

15

Order code

50094984

Kit Cable gland Found. Fieldbus

Nr

65

Order code

71110303

Sealing set GT18/GT19/GT20, EPDM, HNBR

Consists of: O-ring 88.5x3.53 EPDM/PTFE, cover electronics compartment, housing GT19. O-Ring 88.5x3.53 NBR, cover electronics compartment, housing GT18, GT20. O-ring 91.67x3.53 EPDM/PTFE, cover terminal compartment, housing GT19. O-Ring 91.67x3.53 NBR, cover terminal compartment, housing GT18, GT20. O-ring 50.39x3.53 EPDM/PTFE, housing/sensor. FMP50/FMP51/FMP52/FMP53/ FMP54/FMP55/FMP56/FMP57, FMR50/FMR51/ FMR52/FMR53/FMR54/FMR56/FMR57, FMR60/FMR62/FMR67. Usage: Promass 200/TB2, Prosonic Flow 200, Promag 200, Prowirl 200.

Nr

19

Order code

71115174

Housing filter 316L, GT18, 1 set

Consists of: 2x filter plug metall 316L. 1x pressure compensation filter. Usage: FMP50/FMP51/FMP52/FMP53/ FMP54/FMP55/FMP56/FMP57, FMR50/FMR51/ FMR52/FMR53/FMR54/FMR56/FMR57, FMR62/FMR67. Usage: Promass 200/TB2, Prosonic Flow 200, Prowirl 200.

Nr

19

Order code

71115175

Housing filter Brass/Ni GT19/20, 1 set

Consists of: 2x filter plug brass nickel, pressure compensation filter. Usage: FMP50/FMP51/FMP52/FMP53/ FMP54/FMP55/FMP56/FMP57, FMR50/FMR51/ FMR52/FMR53/FMR54/FMR56/FMR57, FMR60/FMR62/FMR67. Usage: Promass 200/TB2, Prosonic Flow 200, Promag 200, Prowirl 200.

Nr

17

Order code

71115176

Set housing securing clamps

Usage: housing GT18/GT19/GT20, FMP50/FMP51/FMP52/FMP53/FMP54/FMP55/ FMP56/FMP57, FMR50/FMR51/FMR52/FMR53/ FMR54/FMR56/FMR57, FMR60/FMR62/FMR67. Usage: Promass 200/TB2, Prosonic Flow 200, Promag 200, Prowirl 200.

Weather prot. cover GT18/GT19/GT20, 316L

Usage: FMP50/FMP51/FMP52/FMP53/ FMP54/FMP55/FMP56/FMP57, FMR50/FMR51/FMR52/FMR53/FMR54/ FMR56/FMR57, FMR60/FMR62/FMR67. Usage: Promass 200/TB2, Prosonic Flow 200, Promag 200, Prowirl 200.

Transmitter Promass 200, 8X2BXX, <=DN50

For Product 8E2B + 8F2B <= DN50 2"

Transmitter Promass 200, 8X2BX1, >=DN80

For Product 8F2B >= DN80 3"

Spare RFID TAG

Consists of: RFID TAG, fixing wire, crimp sleeve.

Promass sensor, heating jacket, DK8003

Heating medium (e.g. water, steam)