Ship loading and offloading
Highest efficiency and accuracy during loading/offloading with our Proline Promass X Coriolis meter
In ship loading/offloading applications both parties are keen on getting reliable and fast transactions no matter the product or process conditions e.g. air presence. The terminal or depot companies are either receiving or selling the product, as well as the ship companies receiving or buying it.
Systems are usually bi-directional and accuracy, as well as reliability, must be certified and guaranteed for the entire life of the system. With our system we can help you overcome these challenges.
Promass Coriolis meters make the difference
Direct mass meters are the heart of the metering system, and our Coriolis mass meters fit perfectly into your application - providing you with a wealth of benefits:
Confidence and profitability at the same time guarantee accurate measurement and data integration into flow computer/batch controller

Enhanced efficiency thanks to stable performance of fluid density/viscosity

Transparent information on quality of the product at any time thanks to direct density measurement
Low-maintenance effort due to absence of rotating parts

Highest efficiency for your loading application with the first 4 tubes 12 " Coriolis meter Promass X allowing to handle up to 2000 ton/hr

Safer loading thanks to higher tolerance of air content than with mechanical meters
System configuration
A typical system configuration includes:
Isolation valves

Air eliminator

Level control system

Mass flow meter

Temperature

Pressure transmitter

Indicator and flow control valve working as back pressure for off loading application
The monitoring and automation of the system as well as the compensation calculations for custody transfer purposes are handled by the flow computer or batch controller.
FMS Ship loading & offloading parameters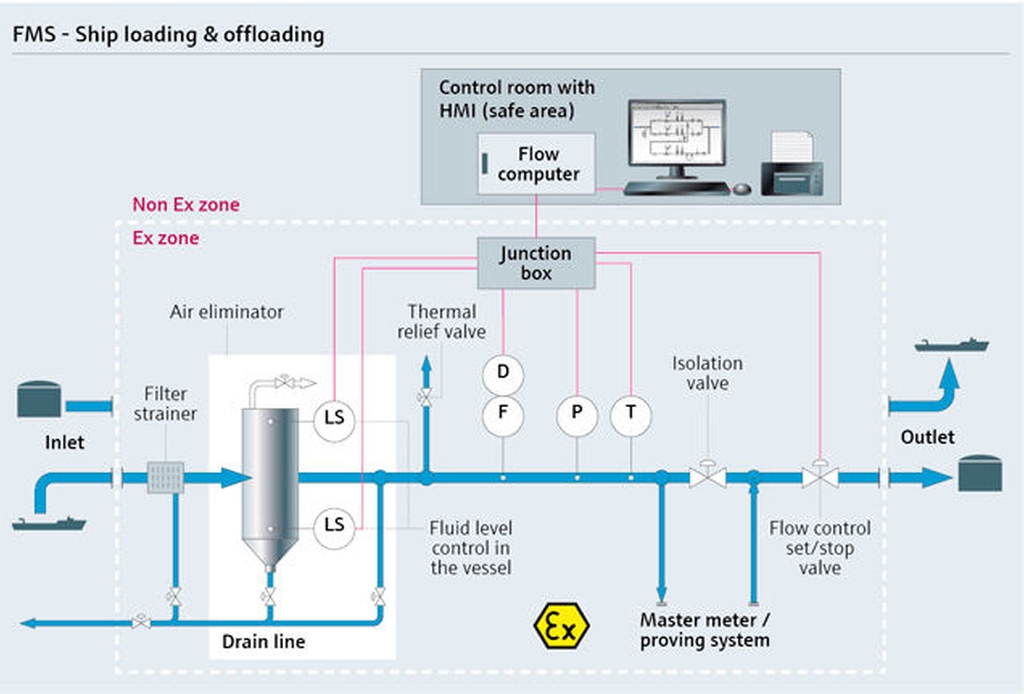 Applications
Truck and railcar loading and offloading

Cost reduction with our standardized skid-mounted 'plug & play' metering systems and fully equipped configurations, for all truck and railcar custody transfer loading and offloading applications.
Simple products

Easy to select, install and operate
Technical excellence
Simplicity
Standard products

Reliable, robust and low-maintenance
Technical excellence
Simplicity
High-end products

Highly functional and convenient
Technical excellence
Simplicity
Specialized products

Designed for demanding applications
Technical excellence
Simplicity
FLEX selections
Technical excellence
Simplicity

Fundamental selection

Meet your basic measurement needs

Technical excellence

Simplicity

Lean selection

Handle your core processes easily

Technical excellence

Simplicity

Extended selection

Optimize your processes with innovative technologies

Technical excellence

Simplicity

Xpert selection

Master your most challenging applications

Technical excellence

Simplicity