Water quality monitoring 24/7
Overcoming corrosion and scaling issues while ensuring the integrity of your water steam circuit
Water quality monitoring within power plants maintains operational efficiency and minimizes plant downtime caused by corrosion and leakages. It also allows boiler and turbine supplier warranties to remain applicable. The integrity of components is affected by the constant contact of water and steam with metal surfaces, which creates corrosion and scaling. You need smart instrumentation for quality measurement and analysis, allowing you to prevent such situations and avoid expensive repairs.
SWAS - A standardized solution for sampling and analysis
The modular Steam and Water Analysis System (SWAS) provides all necessary measuring signals for process control. On an analysis rack (wet rack), the samples are first taken from the water steam circuit and conditioned (cooling, pressure reduction). The conditioned sample can be analyzed for various parameters such as pH, dissolved oxygen, silicate, sodium, total, acid and differential cation conductivity. It is modular, scalable and easy to retrofit which allows you to increase plant efficiency.
Suitable for use with Memosens digital technology for easy calibration, reliable measurement and user-friendly maintenance

One transmitter for all parameters possible with Liquiline multichannel controllers

Integrated logbook for water quality data

Predictive maintenance with remaining cation capacity calculation

pH calculation via differential cation conductivity according VGB standard
Smart analysis solutions to prevent corrosion and scaling
Applications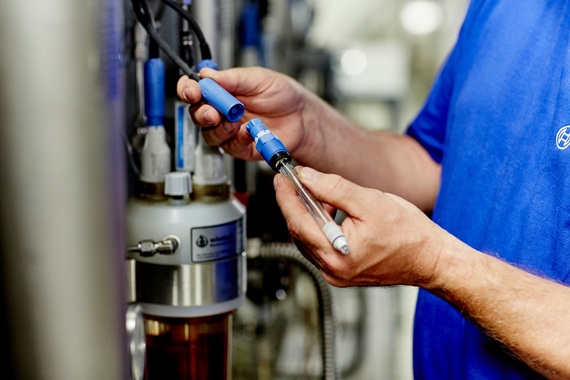 Monitoring pH within the boiler to avoid system corrosion
The pH value varies depending on the location in the water steam circuit. There are two modes for pH conditioning depending on the existing materials in your plant: universal mode and alkaline mode. Nevertheless, it is common practice to keep the pH value of feed-water at slight alkaline levels to prevent corrosion. We support you with a unique pH electrode for ultrapure water and a salt ring for reliable measurement.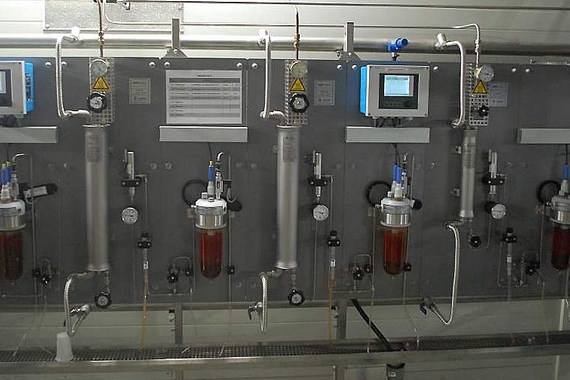 Precise monitoring of silica protects the turbine
Silica can deposit on any surface steam touches leading to a solid layer on the turbine blades, causing abrasion and blockages. Removing these silica parts with chemicals or mechanical processes can cost valuable time and resources. Our analyzers offer you continuous monitoring at several points of the water steam cycle (e.g. high pressure and low pressure turbine steam, steam drum, CEP discharge, make-up water, drum water) which avoids costly delays in start-up and manual test sample batches.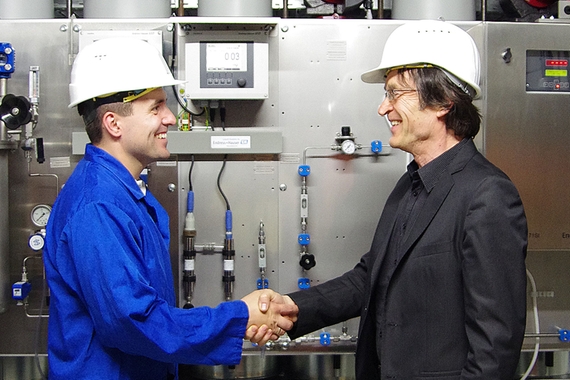 Monitoring the dissolved oxygen (DO) to prevent corrosion
Oxygen should only be present in trace quantities (ppb) as it can result in corrosion damage to the components of the steam cycle. To minimize corrosion under alkaline operating conditions, mechanical de-aeration and chemical scavenger additives are used to remove the DO. Our Memosens technology for oxygen sensors combined with our Liquiline transmitter allows for reliable lab calibration, easy maintenance and minimal downtime of the measurement point.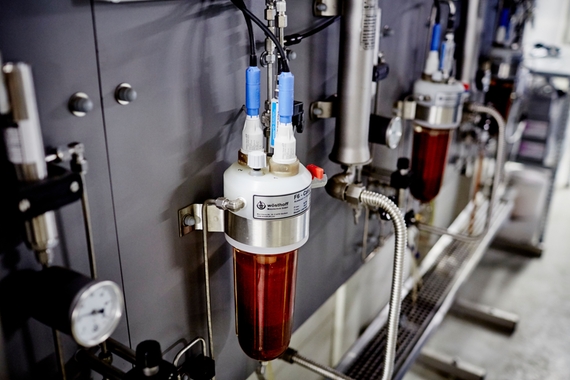 Detect conductivity variations that can create scaling
Conductivity measurement indicates the quantity of dissolved solids that are present and how likely they are to create some scaling. Conductivity of pure water is almost zero and even a small addition of salt can increase corrosion dramatically. The conductivity parameter can be used to detect impurities caused by cooling water and air leakages. We offer a wide range of multi-parameter transmitters to fit to your needs. These transmitters from our Liquiline product line:
Are quick, easy to commission, easily expandable

Are based on Memosens digital sensor technology and have standardized and intuitive operation

Are compact or panel mounted for more simplicity
Benefits
We believe in smart instrumentation that saves you from expensive repairs and unnecessary downtime. The SWAS panels are designed with best-in-class instrumentation to ensure the integrity of your water steam circuit at all times. All panels are easy to install, to commission, and to operate and can be combined as desired thanks to their modular design.
50 %

increased process uptime thanks to digital Memosens instruments installed on the panels

$ 3,250

additional savings every 26 min in a typical 500MW combined cycle plant using degas conductivity analyzers

50%

time savings when you integrate the SWAS panel into the process control system thanks to Liquiline transmitters