Cost-efficient steel production
Optimize the costs of steel making by using smart instrumentation and process solutions
With the steel markets being highly competitive cost-efficiency is one of the top priorities for plant managers. And as energy costs can constitute up to 40 % of the overall costs, energy consumption has a huge potential for cost optimization. Think for example of utilities, or "W.A.G.E.S." (water, air, gas, electricity, steam). Utility costs in the steelmaking industry are equal to more than 3% of a plant's revenue in the United States, and more than 6% of revenue in Europe.
Optimize your steel processes
To improve the performance of a blast furnace, a converter or an electric arc furnace, various critical parameters have to be closely monitored. Having reliable and accurate measurements ensures a tighter process control and by that an optimized energy usage. Also critical is the optimal usage of argon, compressed air or steam. As they have a direct impact on the result of the process they also influence how much energy is used.
Accurate measurement to improve process control

Successful management of utilities, or "W.A.G.E.S." (water, air, gas, electricity, steam)

IIOT-ready instruments
Find out how you can optimize your costs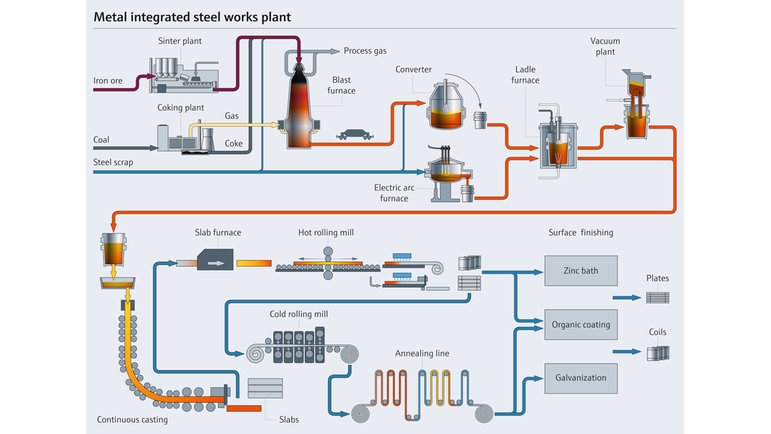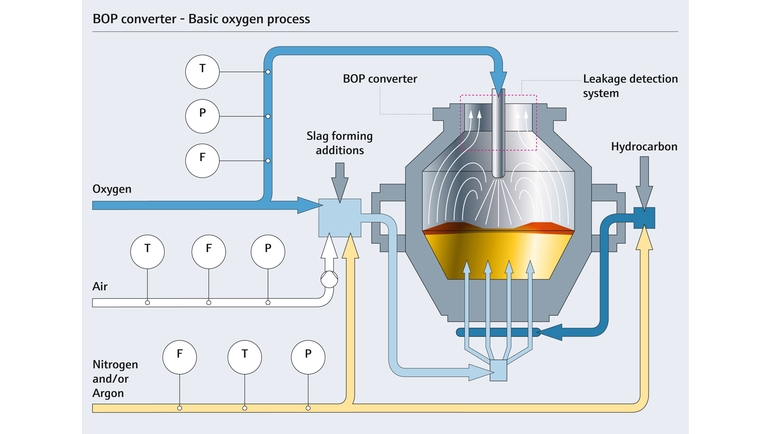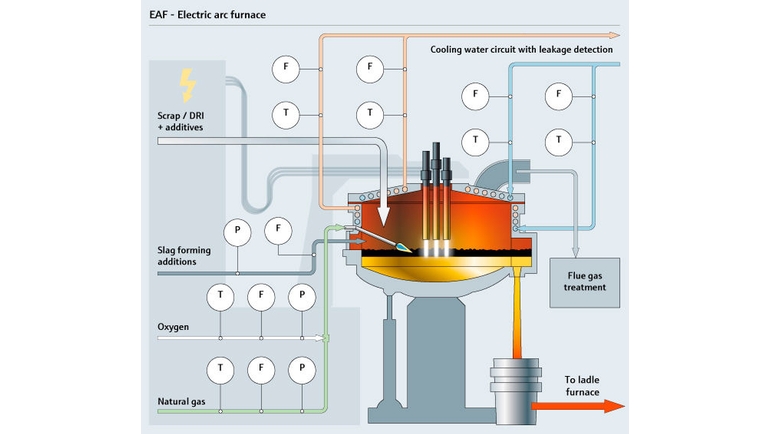 How we can support you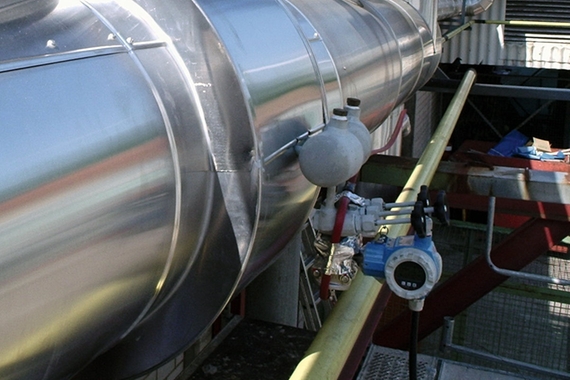 Why W.A.G.E.S. matter
Typically, 10% of a plant's electricity is consumed for making compressed air and 40% of its natural gas is used for making steam. Measuring "W.A.G.E.S." is the foundation for any energy management plan. Energy management consists of measuring and collecting this data and analyzing the data for reporting. Based on the findings, appropriate actions can be taken in order to reduce utility consumption and costs.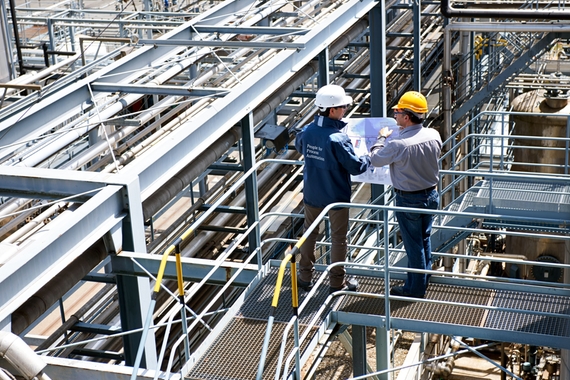 Take a step towards IIoT
Digital fieldbus networks connect field instruments to the control and maintenance systems. In combination with smart sensors featuring Heartbeat technology this enables instrument verification, advanced process diagnostics and condition monitoring functions. This gives managers an even greater control over their processes and helps them to make the right decisions to ensure efficiency and product quality.
Complete project management including assembling, cabling and engineering of the system

Smart sensors with diagnostic functions

Web-based tools for easy access to information about the installed devices and automatic access to device documentation (W@M portal)
Benefits
Endress+Hauser offers a complete range of process instrumentation as well as dedicated automation solutions and comprehensive services that support the entire life cycle of your steel plant. Thanks to over 60 years of industry experience in even the most challenging environments, employees can make valuable recommendations on how how best to combine smart measurement sensors to reduce energy consumption and save money.
33%

of the costs for pressured air can be saved using our smart instrumentation and solutions.

1-2 years

does it take approximately for our steam monitoring solution to pay off thanks to reduced energy costs.

55,000

smart sensors integrated in 65 digital optimization projects.