Proof testing Safety Instrumented Systems
Reduce random and systematic failures without compromising the availability of your chemical plant
Chemical plants have steadily increased the amount of Safety Instrumented Systems (SIS) installed to minimize risk of critical processes. To ensure that the system is carrying out its safety function, regular proof tests are conducted. In addition, proof tests are necessary to stay compliant with safety regulations (e.g. IEC 61508/61511). Such tests, however, result in high costs and downtimes. Hence, the chemical industry is challenged to find the right balance between safety and availability.
How we can help
Faced with increasing safety demands, small margins and stiff competition, improved test methods are in high demand in the chemical industry. Ideally, these should come with high quality, in-depth diagnostic coverage and no interruption to the process. Our Heartbeat Technology with its diagnostic, verification and monitoring functions delivers precisely this. In combination with our SIL proof test services, you can keep plant safety up to speed while maintaining availability with the help of:
Permanent process and device diagnostics with a diagnostic coverage of up to 98%

Standardized diagnostic messages with clear instructions

Verification without process interruption via the push of a button

Automatically generated and unambiguous verification protocols

SIL verification through a wizard-assisted proof test procedure that unveils dangerous undetected faults
Increase plant safety and availability with minimal effort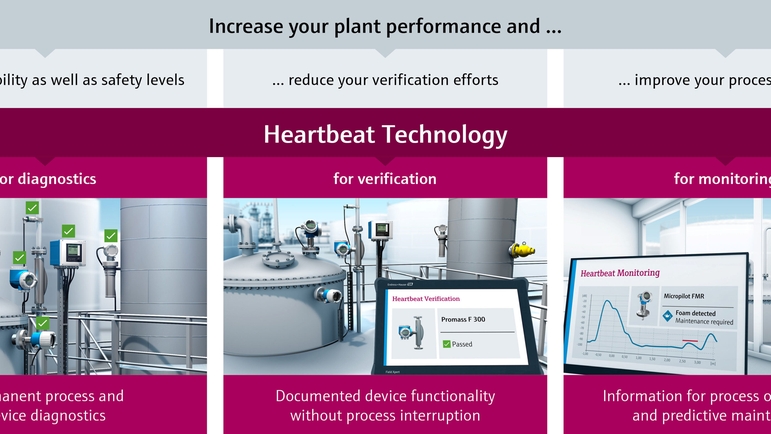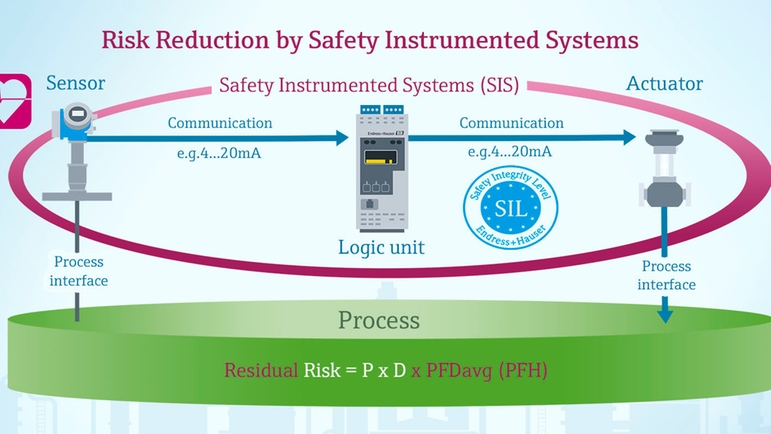 Applications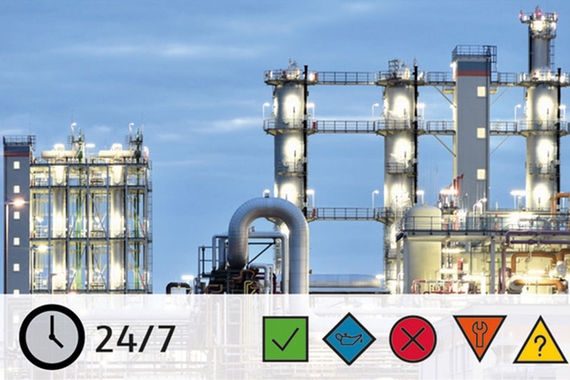 Permanent self-diagnostics with Heartbeat Technology
Thanks to the self-diagnostic sensor technology, our smart instruments continually carry out more than 80 internal diagnostic measures in the background with an in-depth diagnostic coverage of up to 98%. This smart system can reliably detect dangerous instrument faults and reduce the probability of an outage in the SIS. In addition, clear and standardized diagnostic messages and our app Health simplify maintenance. With permanent device diagnostics available where ever you are, you benefit from:
safe processes

cost-effective maintenance through data availability

minimal effort for staff
Documented verification without process interruption
Verification with Heartbeat Technology is straightforward and simple. Verification of your instruments can be triggered any time simply by pushing a button. With the automatically generated verification protocol, you get clear results and the evidence required by safety regulations. In addition, we offer a wizard-guided procedure for SIL proof tests that guides you step by step through the test. Verification with Heartbeat Technology lets you benefit from :
documented and unambiguous verification results

reduced verification effort during planed shutdown periods

flexibility in proof test planning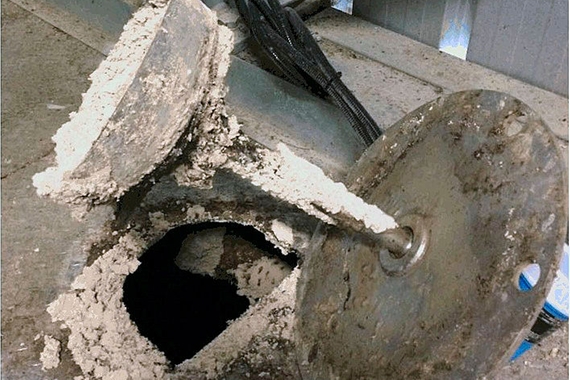 Real-time data for predictive maintenance
The detailed instrument and process data gained through Heartbeat Technology allows you to identify trends and perform predictive maintenance. A good example is build-up detection. Because build-up increases the area of decoupling it can be detected automatically and controlled via an additional switch output and a purge air system. This in-depth knowledge will enable you to extend your proof test intervals without compromising safety. Monitoring with Heartbeat Technology adds value through:
predictive maintenance based on real-time instrument data

optimized processes and maintenance

increased system availability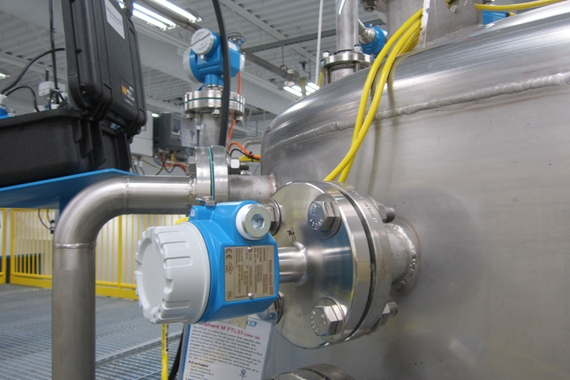 SIL proof testing services
For compliance reasons, a SIS must be tested at regular intervals. With our SIL proof testing service, you can outsource this important task to certified functional safety experts. Our service experts are able to inspect, proof test and document your SIS on site. We provide the full range of testing from simple loop tests to customized tests in complex applications. With this service you benefit from:
improved plant safety by risk and fault identification

reduced unplanned downtime by preventative checks

ensured compliance with safety standards and regulations
Benefits
As a chemical plant operator, you carry a special responsibility with regards to safety. With Heartbeat Technology you can maintain state-of-the-art plant safety without compromising availability – all with minimal effort. Integrated in a wide range of our instruments, this technology delivers concise, standardized diagnostic notifications and monitoring data that allow you to service and maintain your systems precisely when its needed.
31

countries with trained safety ambassadors ready to discuss your safety concerns

100+

SIL-certified devices to provide the best solution for your application

10

million devices installed in safety-related applications over the past 65 years