Edible oil refining process solutions
Innovative measurement technologies ensure high production performance and plant availability
Edible oil manufacturers face the constantly growing challenges of low margins, fluctuating raw materials quality and changing consumer habits. Improving production performance and driving down operations costs calls for innovative measurement technology. Through targeted and consistent optimization of the refining process, plant operators can minimize downtime and rejects while increasing the added-value of their systems, all without sacrificing product quality.
How we can help
Endress+Hauser provides an excellent industry and application expertise. We offer a broad range of reliable and robust process instrumentation to produce high-quality edible oils. Our solutions support you in every step of your refining process - from degumming, neutralization, bleaching, deodorization up to dry fractionation. Sustainable process improvements help you avoid loss and optimize the performance of your production system.
Consistent product quality on highest level

Process improvements to reduce waste and loss

Real-time process data that serves as a foundation for maintenance
Optimize your edible oil refining process
Learn more about how to optimize your edible oil refining through all process steps – from degumming, neutralization, washing, bleaching, deodorization up to dry fractionation.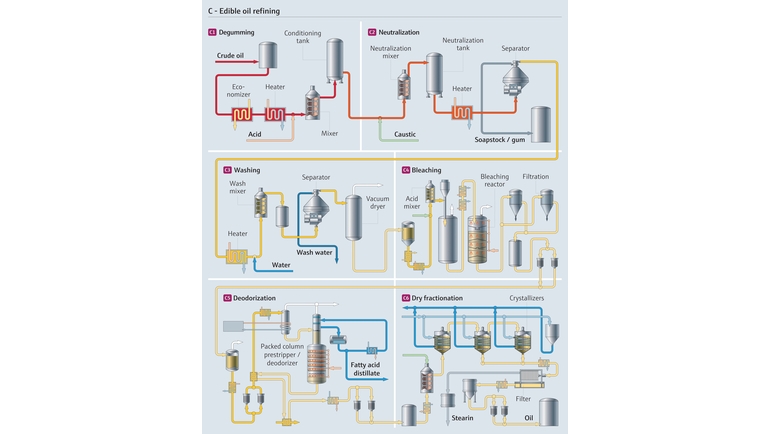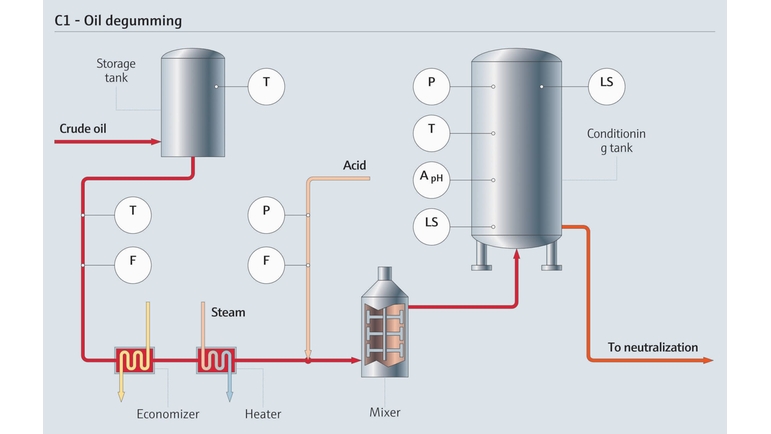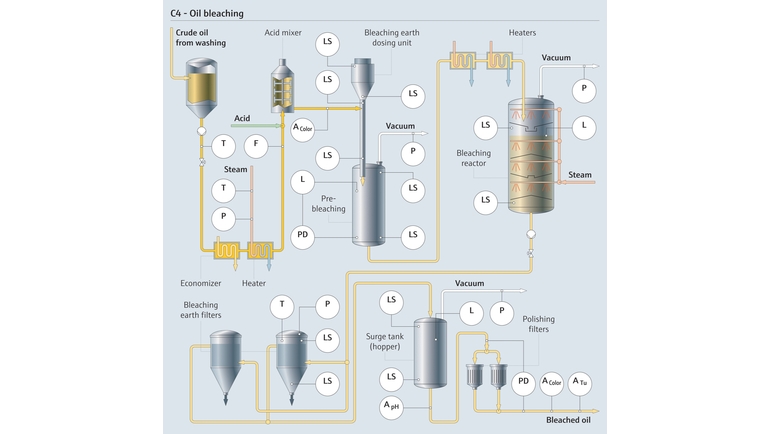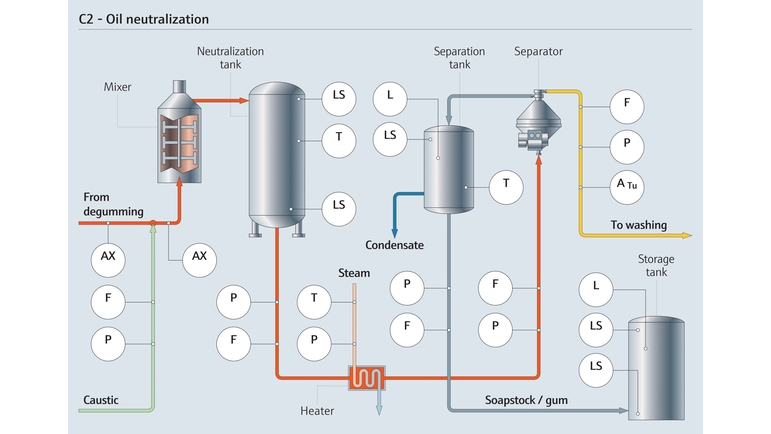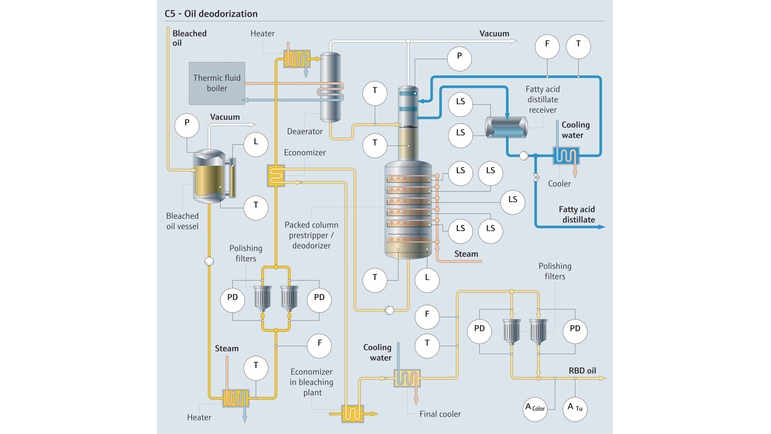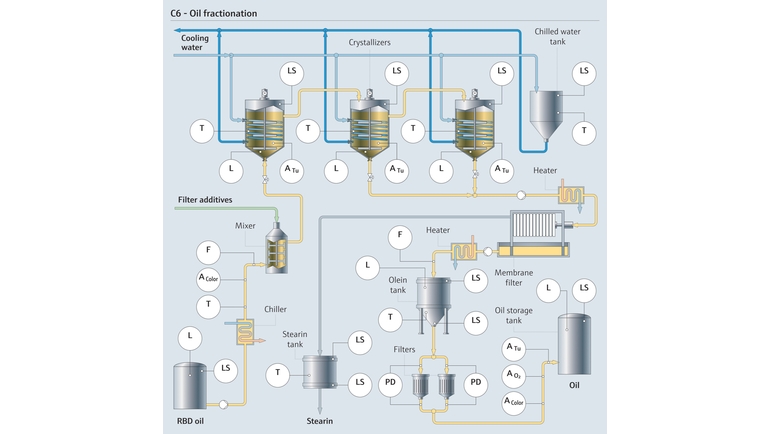 Výhody
As a manufacturer of edible oils, you face constant pressure to conserve resources and reduce downtime while simultaneously maximizing productivity. That's why you need a reliable partner. Our experienced team of industry experts can help you select the right measurement technology for all of your critical process parameters, enabling you to ensure product safety and quality at the same time.
100%

measurement reliability thanks to calibration ensured by our global service experts

ONE

reliable partner with application, industry and process expertise in the manufacture of edible oils

24/7

system availability without interruptions or downtime
Úspěšné projekty
Zlepšení v oblasti rafinace jedlého oleje

Německá společnost C. Thywissen GmbH zpracuje denně 2 000 tun rostlinných semen. Robustní přístroje od společnosti Endress+Hauser v rámci celého výrobního procesu spolehlivě vykonávají své měřicí úlohy.
Jednoduché produkty

Jednoduchý výběr, instalace i provoz
Technická výkonnost
Jednoduchost
Standardní produkty

Spolehlivé, robustní a nenáročné na údržbu
Technická výkonnost
Jednoduchost
Špičkové produkty

Vysoce funkční a přesto jednoduché
Technická výkonnost
Jednoduchost
Specializované produkty

Navrženo pro těžké aplikace
Technická výkonnost
Jednoduchost
Výběr produktů FLEX
Technická výkonnost
Jednoduchost

Výběr produktů z řady Fundamental

Pro jednoduché aplikace

Technická výkonnost

Jednoduchost

Výběr produktů z řady Lean

Efektivně pokrývejte běžné procesní požadavky

Technická výkonnost

Jednoduchost

Výběr produktů z řady Extended

Optimalizujte své procesy inovativními technologiemi

Technická výkonnost

Jednoduchost

Výběr produktů z řady Xpert

Zvládněte i ty nejtěžší aplikace

Technická výkonnost

Jednoduchost
Dostupnost

Instrument standardization

Reduction of cost for commissioning and warehousing with standardization of measuring instruments in your projects

Přečtěte si celý příběh

Účinnost

Optimize Clean-In-Place (CIP) processes in the food industry

Optimize Clean-In-Place (CIP) processes in the food industry with innovative flow, level, pressure, temperature and analytical sensor technology.

Přečtěte si celý příběh

Účinnost

Úprava odpadních vod v potravinářském průmyslu

Potravinářský a nápojový průmysl používá vodu především jako surovinu pro čištění a výrobu. Potenciál k optimalizaci se skrývá v prevenci, sledování a úpravě odpadních vod.

Přečtěte si celý příběh